This file is now part of the BOTF All in One 1.0.0 installer
After a long wait (sorry about that) Ultimate Mod 5 is now up and running and working as intended after the Beta, and with several important changes.
If you were running Beta before, uninstall, and follow this link to download the latest version:
v2.5 1024
For more details on latest version (v2.4) see
post here
Many thanks to Thunder for making the installer!
Ultimate Mod first appeared around 2003-04 I believe, and sported the first ever new ship model (textured and separated) to appear in a Botf mod. Various new models, modding additions and refinements (when they became available) have been released in the time since, the last being UM4 in 2008. Now, at last, UM5 has arrived, obliterating all previous incarnations! Muwhahaha...
Mod Premise
The Premise/story of UM5 is pretty much the same as what my earlier mods have always been. There's nothing especially radical here about the story or the setting. It's the brand of Botf I've always wanted to play, the same vanilla Botf flavour, but with the Dominion as a major power in place of the Ferengi as usual - Botf bigger, better, sharper - Vanilla Botf with chocolate chips you could say, and chocolate sauce why not...
Mod Summary
-The Fed GUI has been overhauled and largely recreated.
-New Planetary animations (made for Botf2, finally seeing the light of day)
-Massive number of new buildings
-Buildable Minor race ships
-Outposts removed, Starbases built from the start
-Many Minors have up to 3 buildings available, ranging from tech 1 up
-12 Techs in all to research
-Buildings auto-upgrade with Tech breakthroughs
-Techs split into 'eras', Tech 1-4 *points gap* 5-8 *points gap* 9-12
-New ship models for Feds, Cards, Klings, and Roms, + remade my old 'cookie-cutter' Breen model whose hi polys more oft than not resulted in CTD
-Several new Minors debut
-Many familiar old UM minors return, eg: Bajorans for Edo (Edo Guardian = Terok Nor), Ferengi taking old Bajoran slot
-Hundreds of new voice samples for Dominion gameplay events
-Improved Dominion GUI (mostly limited to the galactic map screen, haven't time to complete it)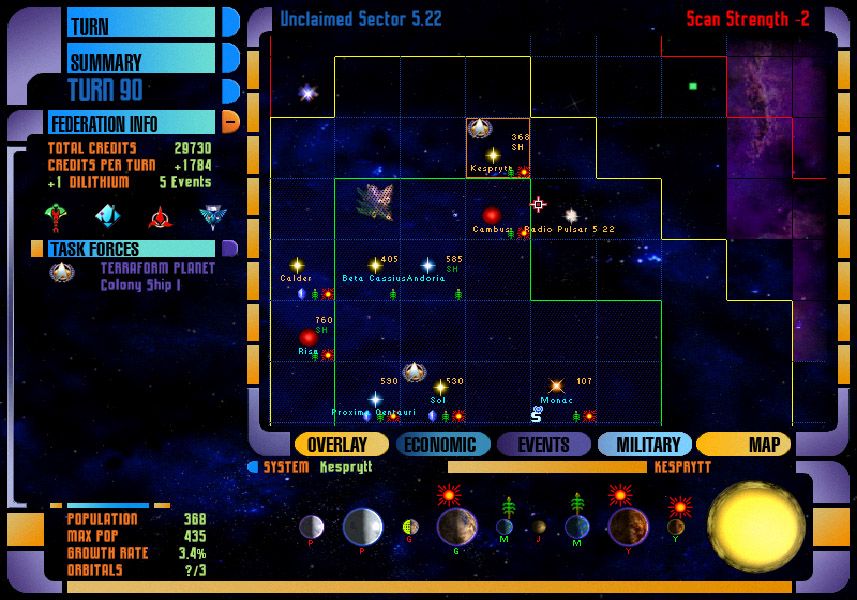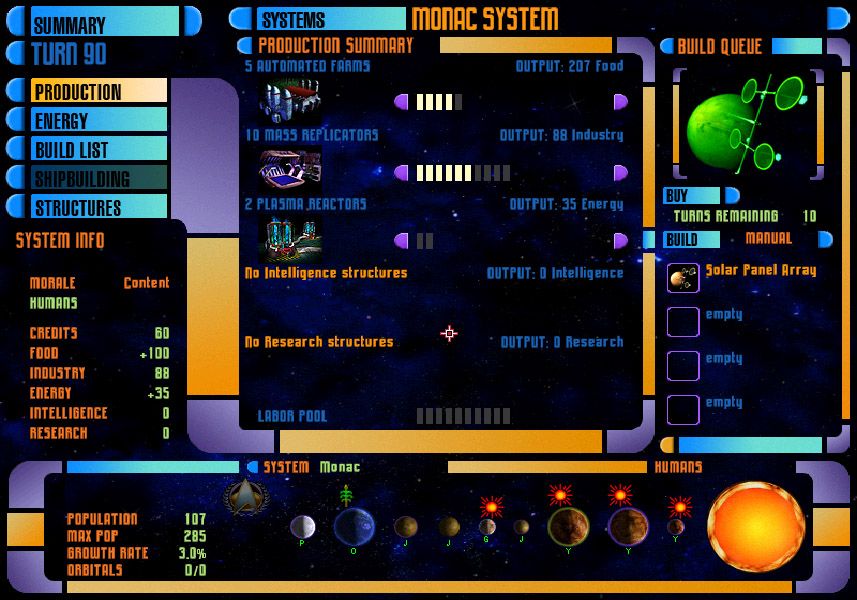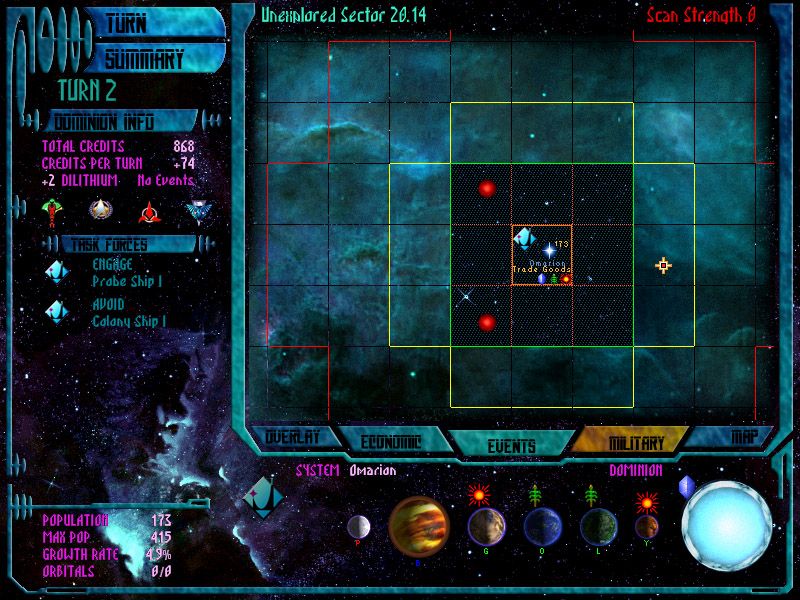 Galaxy
Small: 30x22
Medium: 35x26
Large: 40x30
Initially I was working with a Large galaxy set to 47x35, but I found the going slow and tedious. So I lowered it. Of course those who prefer a gigantic map of possibly even unstable proportions, it's a simple matter to mod UM5 with DCER's UE to dimensions of your liking. My testing has also only taken Irregular Galaxies into account, which is all I have ever played. So for those who run with Ring Galaxies or Spirals or whatever, some customization or tinkering on your part might be necessary to reach your preferred configurations. Their current settings are as default in accordance with
this chart
.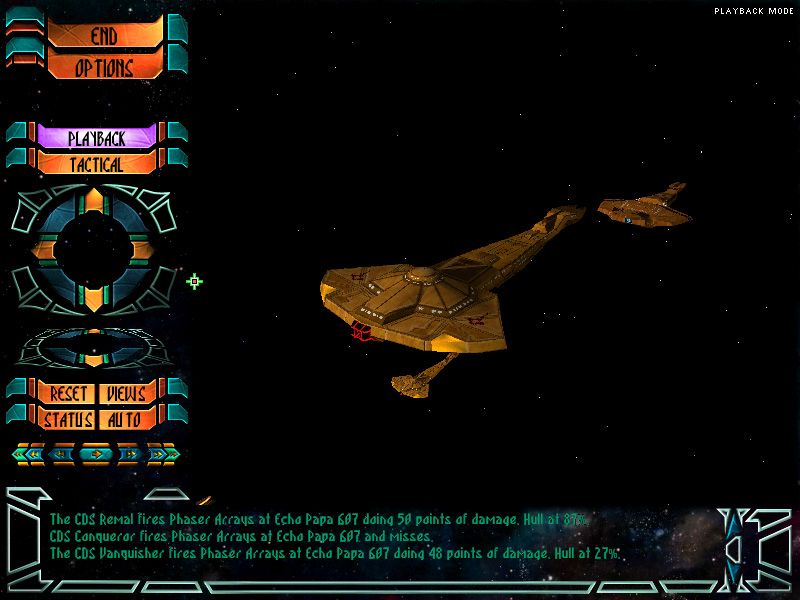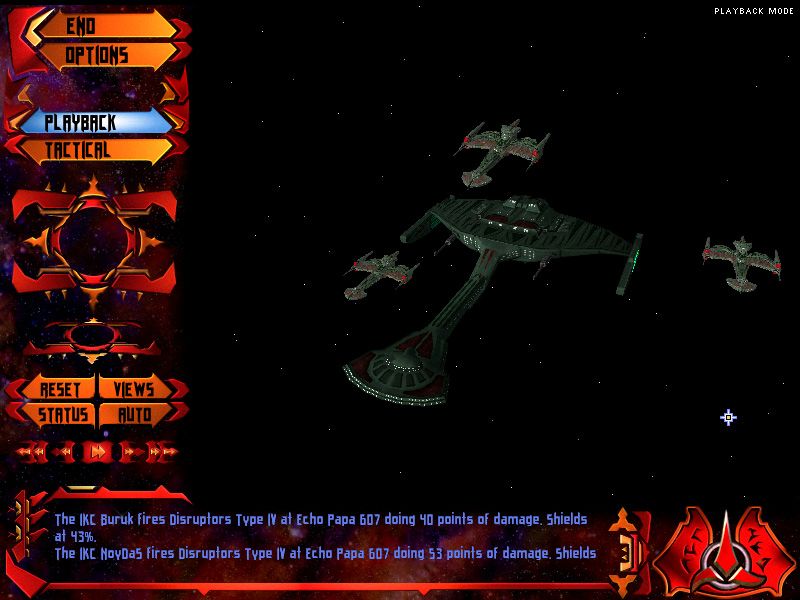 Planet wars
The importance - and rarity - of M-class worlds was always underplayed in Botf. No longer. Most planet types have had their populations significantly reduced (eg large Arctic: 40-50, small Barren: 5). M-class becomes an important resource in securing a decent sized system, and to enhance your empire. A
single
high bonus Large M-class can net you
300+
in population. On the whole, system pops are a little larger than vanilla botf, but those M-class systems play a big role. You will need them! By all means go to war over them when they crop up!
Ships
There are a few new models I've created for UM5 - one for each empire (except Dominion). There are a number of other, older ship models that I've made for earlier mods, making a return here, like my old Constitution and Excelsior. Ofc various other models that are non-vanilla, made by various people over the years – notably Siggi who provides the Dominion ships. Shiplist currently stands at 172 ships, with approximately 30 to each empire. I've done something different with this shiplist. In previous mods I've crammed as many ship models in as possible, especially for the Fedz, for whom we have many canon classes and designs. They seemed to have 1 or more new ship class each tech, which just wouldn't do. Ultimately, I found the shiplist ugly, eclectic, and prone to cause headaches if looked at too long. The end-game fleet was a horrible clutter of so many pointless classes for the way this game works. I didn't need to have 4 or even 5 different classes of cruiser for example.
So UM5 consolidates heavily, and makes order out of chaos, and it is largely in thanks to Gowron who produced a similar list with his Balance of Power mod. So, sorry fans of the Steamrunner, Sabre, Curry etc etc, or even the Intrepid-class - they won't be in UM5. They just don't 'fit in' when one end-game cruiser type (not including Heavy cruisers) is enough imo. Every empire follows more or less the same formula from tech 1 to end game. 4 Starbases, 4 cruisers, 4 commands, 3 scouts, 3 strikes, 4 destroyer types (plus 2 Colonies and 3 TTs). Some empires have plain Destroyers, but get Heavy Cruisers, others get plain Cruisers, but have Heavy Destroyers. But each empire gets a big, powerful end game ship - the pinnacle Command Ship, available at Tech 12. The Federation get my new Cosmos-class Explorer, the Cards the Ranor-class (aka Hutet), the Klingons the Negh'var type IV, the Romulans Valdore-class Warhawk.
Canon Buildings for Canon output
I like to hold to canon wherever possible. UM5 makes use of several new and interesting output types made available with recent modding breakthroughs. Namely, Scientific and Military Intel, Industry EW, and %Raiding. Here's a preview. The Romulans, always sneaking around trying to catch the word on the technological progress of their rivals (USS Prometheus anyone?) get %Scientific Intel in their new Naval Intelligence structure (Tech 8 - these powerful buildings are all late-game buildings), separate from the Tal Shiar. After the Dominion war on DS9 the new Cardassian provisional government installed the Intelligence Bureau to replace the defunct Obsidian Order. So the Cards have the Intelligence Bureau for %Military Intel. The Klingons have the Deep Space Gulag, a grim, icy prison planet (a OPE structure). It yields a powerful Empire-wide Industry boost. Lastly, for whoever can get them, the Orion Marines Guild provide their strategic expertise to grant a %raid bonus to raiding deployments empire wide. And there are many, many other cool new structures. The Zakdorn even get their Surplus Depot as seen in TNG (as well as their usual Military Academy ofc).
Corrections, Bugfixes and Patches
This mod would not have happened were it not for the very kind assistance of Thunderchero first and foremost with helping me come to terms with many of the new fixes now available, and numerous other topics which I struggled to get to grips with as I slowly got back into modding again. Additional big thanks must also go to DCER, Gowron, Flocke, spocks-cuddly-tribble, Quasardonkey, Joker, Peter1981, and others I'm certain (i'm sorry if I've forgotten to list them all) for their hard work, research, and tremendous insight into improving this game!
UM5 has been generally augmented, and patched with some 70+ patches and fixes with QD's Botf Patcher tool; plus the Error Correction Mod patches, and comes with the Energy screen project enhancement. Also included are a few of my own custom-written patches (based on others research/solutions), including: territorial claim expanded for both inhabited systems and starbases; no more base structure micromanagement and upgrades - upgrade is automatic with Tech increase; max 9 planets to a system (Gas giants disabled); credit output adjustments, Tech levels increased to 12 (technically 13: Tech 0-12); the required population for Trade routes slightly increased. Also I made some habit.bin alterations to fix vanilla bugs (ie Cardassians not liking desert planets, yeh go figure) and provide for the Dominion in place of Ferengi. There's probably other stuff I forgot, but that's it in a nutshell.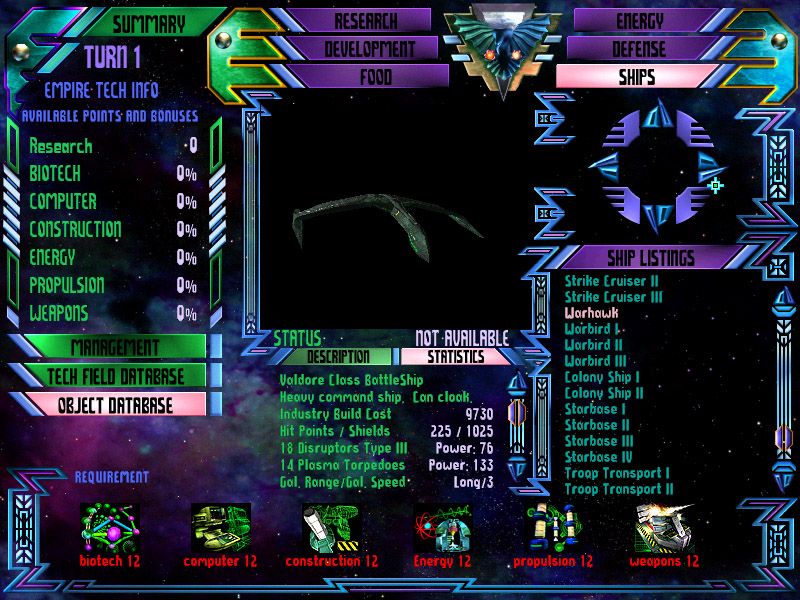 Patches List
Many thanks to the research and hard work of DCER, Gowron, Flocke, spocks-cuddly-tribble, Quasardonkey, Thunderchero, Joker, Peter1981 and others.
AI Tweak 06: Adapting AI trade goods (workaround for flawed AI building behaviour
AI Tweak 08: Disabling the system-specific random events for AI
AI Tweak 10: protecting the AI from neutron stars
AI Tweak 17: Speeding up AI system upgrades
AI checks for Borg presence (fix)
AI offer size static bypass option
Additional tech levels (12 techs) (UM5 custom)
Avoid AI systems fix for monster programs 2-4
Borg invasion bug (fix)
Cardassian range bug (fix)
Cloak default for taskforces (fix) and Re-cloak during system attack (fix)
Colony starting pop/buildings index bug (fix)
Commands in tactical combat
Communications Grid bug (fix)
Crew Experience bug (fix)
Custom planet names for any system (fix)
Disable the experience bar for ships that you don't own (fix)
Disable the ship scrapping exploit [square root] (fix)
Disabled buildings – extra morale bug (fix)
Divisor for event frequency of system-specific random events on 'impossible' set to 1500
Downgrade bug
Economic and Military Score overflow bug (workaround)
Edo God/Combat Drone Cloak (1.b/ 2.a,b,c/ 3 a,b)
Edo God Auto Hail bug (fix)
Eliminate empire via bombing – Morale omission fix
Empsinfo + Systinfo Bonus fix
F6/F11-key bitmask fix
Food popup for max-growth (fix)
Generated monsters savegame bug fix (2.4)
Gowron's Planets and Extended system sizes
Ground Defence Bonus and Popup fix for Minor and Rebel systems (fix)
Instant-terraforming bug (fix) UPDATE
Intel bug fixes (2.1, 2.2, 2.3, 2.4 & 2.5b)
Liberating Native systems (morale error fix – updated)
Liberating foreign home systems fix and morale omission fix
Lower level ship type index bug (fix)
MP Domination victory conditions (in accordance with manual)
Map range tech field database fix (option A)
Minor Race add Fed T1 Main Food Building bug (fix)
Minor Race ships limit (fix)
Minor Race declares war – morale & message error (fix)
Minor Race gifts effects 25 to 75
Minor Race hidden from diplomacy bug (fix)
Minor Race rebelled / message withdrawn bug (fix)
Minor Races: corrected difficulty level bias & pop growth (1-4)
Minor Races without Main Buildings system takeover bug (fix)
Morale overflow over 32767 bug (fix)
Neutron Star bug (fix)
New Training Limits
No-CD crack for 1.0.2 (fix)
Number of Trade routes
Op and SB extended sector claims (UM5 custom)
Orbital Battery tech level bug fix for Minor/Rebel systems
Orbital Battery fixes / Strike Cruiser defensive bonus
Outpost/Starbase for free bug (fix)
Outpost/Starbase self-repair bug (fix)
Phantom dilithium bug (fix)
Planet 'Minos' Position (fix)
Production Bonus adding wrong main building IDs (fix)
Raiding fixes 1-4
Rebellions and the Message withdrawn bug (fix) Updated
Rejected friendship message bug (fix)
Research Decay bug (fix)
Ship repair – ally & shipyard bug (fix)
Ship stats pop-up bug (fix)
Shipname appendix fix
Ships in build queue occasionally not auto-upgrade (fix)
Starting pop of extra starting systems
Starvation rounding bug (fix)
Stolen ships – crew experience & bonuses bug (fix)
Strengthening the AI ships in tactical combat
Tech %bonus Output (UM5 custom)
Terraforming fix for additional starting systems and minors (updated)
Unremoved stations of dead empires
Upgrading buildings bug (fix)
Weapons jamming fix for space stations
Zero growth rate minor planets (fix)
Terraforming / planet image bug (fix)
Plus various other custom amendments/patches of my own.
Updated Notes and Known Issues (May 2014)
-Terraforming costs have been increased (perhaps a tad too much, we'll see)
-Energy screen expanded to support 14 objects (for both special and defence structures)
-Minor race ship building now supported (mainly to take advantage of 'good' minor race
ships that maybe desirable to have, which have been tailored accordingly, notably:
Ferengi Marauder, Breen cruiser, Tholian destroyer, Tamarian Defender)
-Several changes to ship list order. The tech 12 supership that each empire has are
type II versions of the same ship that are initially available at tech 10.
-A fair few new buildings, including adjusted food and energy structures, balanced
across the empires, and designed as always with canon in mind (ie Cardassian Replimat etc);
a high-value mid-game energy structure for home system offsetting energy concerns of
multiple power-thirsty structures that soon begin to build up; a few alterations to
various empire building outputs that strive to reach a general balance with the other
empires, notably in resources (food/energy/intel), as well as in research and buildings
that grant +morale; an end-game empire-wide ground combat structure for each empire.
-Some of the empire home systems have gained an extra planet here or there to grant
them access to energy structures associated with certain planet types.
-Eliminated several cosmetic errors and typos.
-A few of the ship scales have been altered/corrected. I have also employed Thunder's
neat trick to slightly increase ship to ship initial distances in tactical combat.
-Building bonuses and outputs have been rebalanced. A key change was to %industry
structures whose value multiplies the initial default value of Industry, rather than from
what is applied by the tech level.
-I did begin to introduce an increased number of starter-systems, extra ships etc, for higher tech
starting levels, then scrapped the idea and reverted to vanilla values. BoTF is easy enough,
you want everything handed to you on a plate?
-All ships have at last received extensive balancing treatment - literally hours spent
poring over a spreadsheet...
-You'll be glad to note that Empires build and expand normally now. There is obviously a
hidden control somewhere in the code that prevents the AI from building structures (even
the base structures) if the price is too high. Thanks to a suggestion from RJF1812 on
these forums, the solution was in lowering the cost. So base structures are now as cheap as
chips, and after the first few industry structures additional buildings can be built
often in a single turn. It's not ideal, as colonies spring up a bit too quickly and
easily for my taste.
Current Known Issues:
Sometimes ctd at galaxy generation due to preset minor race frequency.
Just watch race intro vid for a few secs and galaxy should load.
UM5's Galaxy sizes are small: 30x22, medium: 35x26, large: 40x30. These can easily be
customized using DCER's Ultimate Editor. This mod is configured mostly for the Irregular
Galaxy types, and other shapes (spirals, elliptical etc) have default values, and may
require further tweaking for those who prefer these shapes.
Galactic density/ star frequency have caused some problems in that a perfect distribution
of stars has been difficult to achieve. Minor race frequency has been set as high as possible
to achieve an even spread from left to right across the map, without experiencing crashes
at galactic generation, with "readrace.c, Line: 257, 0" error.
Players may however find slightly less than the 29 minors on all Large Irregular galactic maps.
Some of the random planet animations are 'borrowing' custom minor race planet
animations (and apparently their growth rates too), and it is an issue that has no solution at present.
As a result of this, errant non M-class minor race planet animations appearing in random systems (which
are not all standard sizes) there will be a further issue of the terraforming overlay graphic
not being be the right size.
Newly created sound clips in English.snd contain a slight 'noise' artifact at the
beginning of the sound clip, and again at the very end. I'm not sure how or where this
has arisen, and this might be fixed if I redid them all. But it was a lot of work to get
them all done, and to get the whole complex process organized in the first place. I won't
be doing them again (unless, for example, I came across a much superior - and free –
text> voice program to create much superior sound clips).
Some buttons/sliders and other graphical elements in the new Fed GUI are not complete
everywhere (especially in the tactical combat and diplomacy screens.) Similarly the
Dominion GUI is confined mainly to the galaxy screen (i just never had time to do the
whole thing).
Credits to Contributors
Note: whereas some of the models and textures are my own, many of the ship models used in UM5 are indeed from vanilla, but have been retextured/reconditioned.
Many many thanks to Siggi, Thunderchero, Dr Breen, and Jigglypuff for the use of their 3D ship models, and/or textures:
Many thanks to Vjeko and Zeleni for use of some of their artwork from Supremacy.
Again, massive thanks to Thunderchero for helping me get this mod off the ground, and for solving many bugs and answering my numerous PMs.
And never forget DCER and Gowron. Without their hard work and effort, and great intelligence, this mod – and I believe many mods – would just NOT be possible.

LIABILITIES, AGREEMENTS, AND TERMS OF USAGE
You know the score. Ultimate Mod 5, a modification of "Star Trek The Next Generation: Birth of the Federation" (being the intellectual property of Microprose and Atari Inc., based on Star Trek™, being the intellectual property of Paramount Pictures) is released into the public domain for free, for purposes of non-commercial usage, and does not seek to infringe upon the rights, royalties or copyright of any commercial parties. You are the End User, and you agree to these terms, and you agree to the usage of the Ultimate Mod 5 material at you own risk. You also agree that the author and distributor of this mod is Dafedz, in association with listed contributors, and you agree NOT to use or distribute any of the material in Ultimate Mod 5 without express permission from that author or the listed contributors.
These are the terms of usage, and your agreement to liabilities, and you agree to them to the best of your knowledge and ability to understand them in your application and usage of the material. The author of Ultimate Mod 5, Dafedz, and any of his contributors, shall not be liable for any infringements you make, or any damages this material causes.