Thunder asked
the question
in here recently: what style of game do you prefer in MP?
thunderchero wrote: 1.

cut throat

Do any thing you can to eliminate the other human player

2.

Friendly game

both player work together to wipe out map of 3 remaining races with final combat with remaining ships

3.

Capture the flag

human races selected, then a target race is selected. objective is to be first human to occupy target race home world.
I can offer a 4th kind to this List.
4.
The Long Epic
For your interest, entertainment, delectation - and for posterity - I present the "Gaming Zone Epic Deathmatch", between myself and RM_Dillinger; a true epic MP struggle as serialized on AFC back in the day (which has since been lost). I used the wayback machine internet archive to retrieve this ancient post, dated Mon, June 14th, 2004. I even dredged up the original screenshots that accompanied the post in the old 'After Action Report' sub-forum, used to describe the many great battles we used to have in MP. In the second post, I will copy/paste RM-Dillinger's reply and rebuttal, also taken from wayback machine.
(screenshot of original post)
So here it is. The original post, describing and detailing the Long Epic style of multiplayer game that I personally prefer.... Enjoy. And all feedback welcome and encouraged.
(Unfortunately, owing to crashes this game was never finished, and the final battle remains unfought. I may even have the old, very old, .SAV file lying around somewhere...)
**********************************
:::Posted: Mon Jun 14, 2004 9:41 am Post subject: Zone Deathmatch Epic - Me Versus RM_Dillinger:::
Zone Deathmatch Epic 1v1
capt_picard_5 (me) versus RM_Dillinger
-Large, Irregular
-Impossible
-Many Minors
-Planspac
This was truly an epic game, a real game that spanned several days. It wasn't your common smash and grab affair where you try to get as many Destroyers over your buddy's home system by turn 50. No this was a proper game that went all the way.... and I took screengrabs of the action. Check them out.
We decided on a tech 2 game. Dillinger played the Ferengi, I the Federation (as is most common).
Surrounding Space.
Things started slowly. There were a few interesting systems to colonize in the immediate area, but no minors. In fact, from the default long range boundaries of the home system I found no minors at all. It wasn't until I took the Archer system, built an outpost, and explored further south, that I found my first minor: Angosia. As had been established from the first turn, Dillinger was on the western side, I on the eastern - this information we both imparted, so we knew we had quite a while to grow and develop before we met. As it was, Dillinger had all three AI majors to deal with in the early game. I never even met the Cardies or the Roms in this game. Soon after seeing the 'This will be a day long remembered, the Romulan Empire has fallen' pop up message appear, the same occured for the Cardies. They were Ferg fodder it seemed, and Dillinger was growing exponentially, and expanding in both territory and economy. I stepped up my game.
Moving further south I soon came into contact with a few more minors in a nice little grouping. In the first cluster I found the always angry Talarians (which, bless them, had a number of warships already), the Chalnoth (they would have to wait until I turned my attention to them), and the spineless Mizarians (who I turned down for membership immediately). Looking a little further west I came across some strategically important systems, both territorially and in resources. Pyris, Farius, and Turkana. Turkana, as it turned out was the key system, which I was very glad to take. Not only was it large, (large M-Class, pop 485, with energy and food bonuses, but it had Dilithium!, the first such uninhabited system I'd found).
Meanwhile, a Science Vessel had made contact with the Mintakans, and soon after the nearby Klingons. They were immediately hostile, but soon became a little more responsive after establishing the obligatory 25 turn non-aggression treaty. I gave into one (very small) demand until they offered a friendship treaty proposal. I accepted, for I already had a few systems capable of sustaining trade routes, such as Oniaka, Angosia ( my first member), and Otar. On first inspection they had some impressive systems, and at once my gaze focused on the massive 600+ Trill. That would be an ideal acquisition, I thought. Unfortunately, whilst concentrating further south, I neglected to spend as much time moving east, and stealing the Mintakans from under their nose. This system was big, 550+, but they hadn't fully popped at this stage, so I held out. But the Klings moved in and recruited them (yes, they didn't even bother invading...) One sector away was Takara, another useful research race, and a nice sized system (420), and well placed. So I quickly recruited them, installed a subspace scanner, and they soon became my most important westerly outpost, for the rest of the game.
It wasn't long before the Klingons, obviously intimidated by a growing fleet presence at Takara, offered an Alliance proposal. Playing as the Federation I was all over it of course, and accepted at once. If the Ferengi were as large and powerful as I was beginning to suspect, (having devoured the Cardassians and Romulans with ease it seemed), the Klingons would be a useful ally (even if they were AI)
Middle Game.
The image shows a screengrab of my view of proceedings on turn 179. I'd reached starbase technology about 30 turns earlier, so making use of this I immediately fortified my systems on the Klingon frontier.
The image shows things as they were soon after establishing the new colony of Gamelan. I had about 80 ships positioned at Gamelan, and Bolarus below it, just waiting to detect the first Ferengi intruders. You'll also notice at the bottom, Vulcan, another important aquisition, and a couple of other minors, such as the (potentially critical) Ktarians, Edo, and industrially huge Bynars, with a 500+ population. By now I dominated almost half the galaxy.
Most of my systems were in place now, and my terriotroial boundaries established. I still only had 5 Dilithium sources though. My key ship-producing shipyards were located on Sol, Takara, Mizar, Bynaus, and Vulcan, all operating in the 3,000 to 5,000 industry bracket. I was producing many Destroyer II's on three of them, waiting till I had about 20+, then scrapping them, to fund immediate purchases of Heavy Cruisers, and Heavy Destroyer II groups...
First Contact
In the 190s contact with Dillinger occurred. If I recall correctly a Ferengi Explorer wandered into my territory to have a sniff around. We both agreed to suspend hostilities for the time being, and concentrate on benefiting from each others vast economies. We established a Friendship treaty (and this permitted us to each have a look at 'what the other had'). I at once singled out the Zakdorn as a key Ferengi system, and cursed my luck for not getting them myself. He also had 8 dilithium to my dismay (having just taken the Trill from the Klingons - another boost for the Nagus..)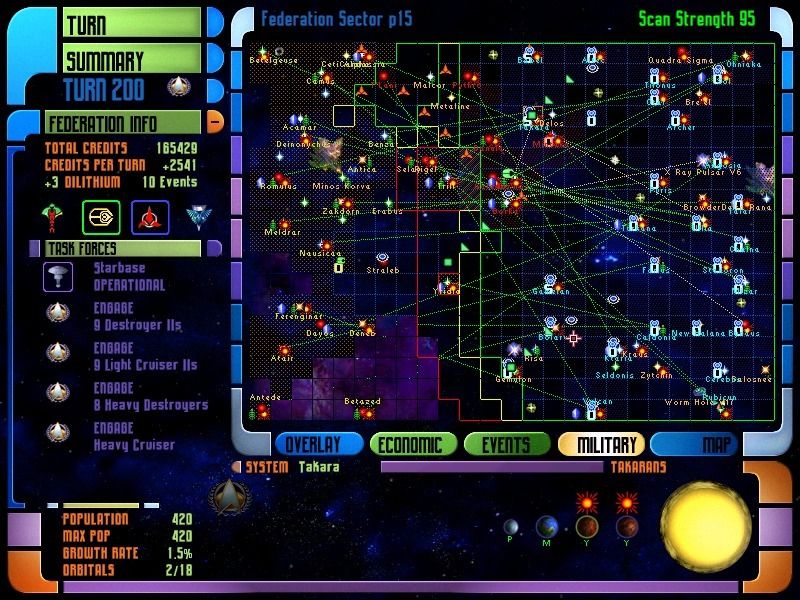 Soon Ferengi ships were cutting through the Klingon empire like a scythe through corn. Selay, Rigel, Trill, and Qo'noS soon followed. But The Klings still had some 40 or 50 active Battle Cruisers floating about, a formidable battle group, but controlled by the AI they were no match for what was literally a glut of Raiders and Light Raiders, all at Vet level it seemed, supported by a smattering of Strike Cruisers and Marauders.
Turn 235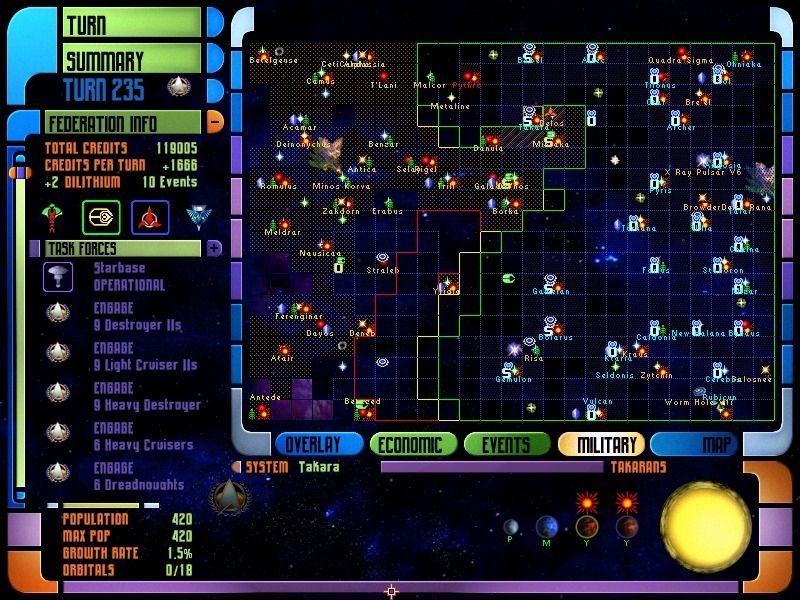 Here you can now see the last death throes of the Klingon Empire. Only Pythro remained. I viewed things now with growing desperation. For the last thirty turns I had been sending them huge and unreasonable demands, hoping they'd terminate the Alliance. For the Federation to terminate an Alliance and declare war all in one go would've been very damaging. Now I regretted that I hadn't. I should have muscled my way in there and taken Mintaka and Qo'noS at least, preferably all systems extending as far west as Trill.
Now it was too late. The Ferengi now had this beige patch of sectors and systems protruding right into my territory, and they had some big, powerful systems too. Trill was 610 just by itself, Borka was 450, and had Dilithium too (as did Trill and Qo'noS of course).
What with the Klingons losing those systems that granted range to my deep space Science Vessels, one was trapped behind Ferengi lines at Straleb. Its days were numbered (it had originally been deployed to spy on the build up of the Ferengi fleet, particularly in what Dillinger was doing at Zakdorn...)
In the end I had no choice. I declared war against the Klingons and went for Pythro. If I could be the one who finished off the Klingons it would serve to boost my morale. The image below is Turn 257, the Klingons have gone, and you can also see that that my treaty with Dillinger had expired.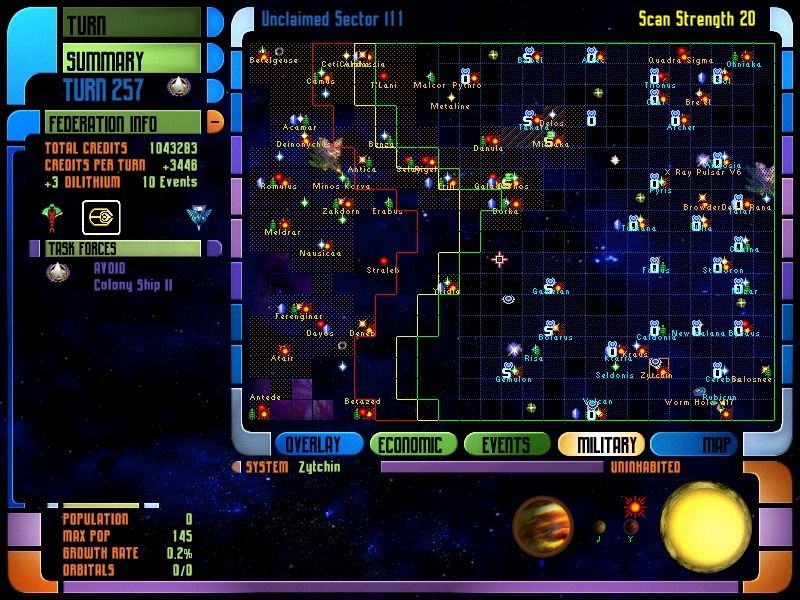 By now an Intel game was coming into effect. behind me I had the Ktarians, Bolians, and Ullians, he had the Yridians and Betazoids, and the combined resources of his assimilated races. I was on top initially, punching out a good 6,000 to 7,000 Intel points. Espionage reports arrived by the turn (including at one point a very useful one - the precise figure of the Ferengi fleet). Sabotage came into being as well, I think I recall stealing two Raiders from him, and destroying one or two other ships.
The Malcorian Problem
One of those niggly little bugs cropped up to haunt us. The Malcorians were originally a Cardassian system, but seeing as the Cards were taken out of the game they were kind of left in diplomatic limbo. I hadn't met the Cardies or established any treaties with them, so when I landed in the Malcor system they appeared in the Diplomatic list of known races without any problem. I started sending them money, I wanted them on my side, for territory, and for thier propulsion research as I moved towards Defiant tech. But strangely, every time I sent a Frienship proposal, the message came back the next turn saying 'The Federation withdrew a friendship proposal...' Dillinger had a similar problem, but the Malcs didn't even appear in his list, so there was no means to declare war and take them that way. So there they had so stay, unconquerable and unrecruitable until the end (I at least could declare war on them, but there was no point for now, I had other concerns).
Now, a fortuitous event occured. Monitoring the Ferengi build up, I counted somewhere in the region of 150 ships, and Dillinger seemed to be deploying them more and more east. An invasion was imminent. I pulled all that I had to meet them head on. I brought my fleet up from Bolarus and Gamelan, and west from the shipyards at Mizar and Bynaus.
The First Strike
But he struck before I could position everything. He went for my starbase at Takara. It was Ferg fodder, judging by the force it faced - 90 Raider IIs, mostly at Vet level. The battle was quickly over. Then my fleet arrived, and instantly I took 12 Marauders out of the game, but I was focusing on those Raiders as the chief threat. He had them on intercept, and in sector N6 we met head on. Unfortunately, (or fortunately, depends how you look at it,) my system crashed, and I was thrown back to the Zone lobby.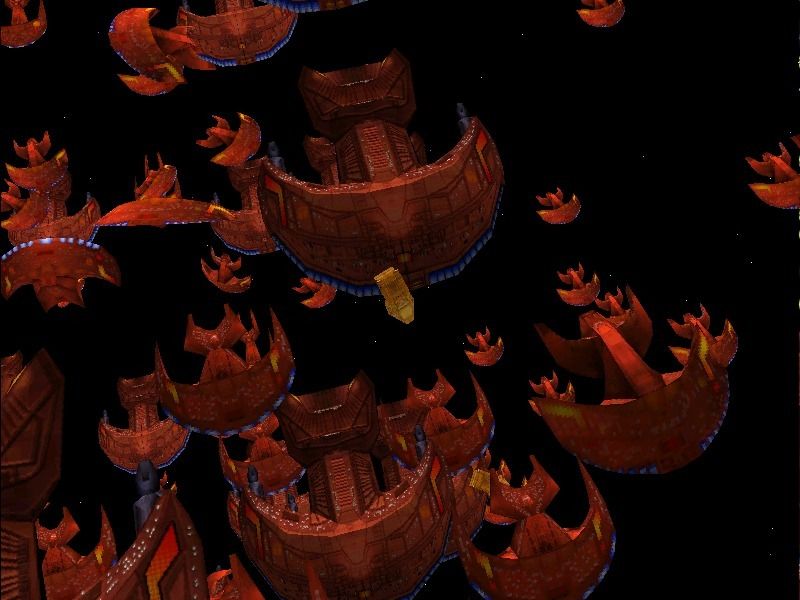 It was a 300 ship battle, so I wasn't surprised. Dillinger played the rest of the turn before realising I was gone. In my absence the battle had not gone well (for me), I lost half my fleet before the AI retreated with what was left. I wasn't going to accept that result! It seemed fair (and Dillinger was kindly quite considerate in this matter), we decided to continue from the last Save.
This though took us back some ten turns, so we had to play them all again. But I approached them differently this time. Looking at my research capabilities, I was almost 9's across the board. Soon I'd reach Defiant technology.
There was only one thing for it.... I was not going to win a military contest against his ships, even though my Commands outnumbered his by some way: all mine were Green, his were Vet and Elite (I had just not had time to train taskforces at Sol. When they were built they were all sent to the frontiers on immediate duty, this was a mistake).
At once I halted all ship production and threw everything on research. For instance at Vulcan, 5,000 industry units were reassigned and put to work in the 20+ type 8 Science Labs... Everywhere research was the priority. Immediately I had exceeded 10,000 GRPs, and the research sliders were concentrating wholly on attaining Energy 10, Propulsion 10, Weapons 10: ther requisite tecnology levels for Defiants, and the one remaining thing that could swing this game.
I pulled all my ships from the frontlines. I took half of my fleet to the shipyards at Archer, and the other half to Turkana. I withdrew and left my borders open, I couldn't adequately defend them anymore anyway.
The Scrap
As soon as I reached Dreadnought II and Heavy Cruiser II tech I scapped everything. Yes I scrapped my ENTIRE FLEET. This was the breakdown of all ship types scrapped:
20 Destroyer II's
38 Heavy Destroyer II's
40 Light Cruiser II's
9 Command Cruiser II's
12 Heavy Cruisers II's
6 Dreadnoughts II's
12 Troop Tranport II's
10 Alien (Talarian, Ktarian, Vulcan)
In total 147 ships were thrown on the scrap heap. What did this do for me? I suddenly owned a goldmine. The scrap generated a total of over 900,000 credits, pushing my bank balance up to 1.1 MILLION.
Of course for a while this meant I had no ships, no military at all (except for 1 Science Vessel, and 1 Colony Ship - which Dillinger had the audacity to sabotage and destroy with his growing Intel strength!) But if only he knew my weakness... If he had chosen to strike now, I would be helpless.
Defiant!
Then it happened. Turn 262 - Defiant tech. I had over a million credits to play with, but unfortunately I still only had 5 Dilithium sources, meaning I could only build in five systems at a time. I ordered 12 Defiants in Sol, Talar, Bynaus, Vulcan and Ullia. By turn 274, just those 12 turns later, I had 60 Defiants. A formidable fleet.
I still had money in the bank, and was still pulling in some 3,000 per turn. I continued to buy Defiants at reduced cost when half completed in the queues, (remember they are 18,270 each) and in places like Mizar and Vulcan I could build a Defiant automatically in 3-4 turns. Immediately every Defiant built was dispatched to Sol for training. This was the crucial factor. They were not going to be any good to me at Green level.
Fergs Fergs Everywhere
About this time Dillinger did finally declare war. My frontier world of Takara suddenly detected an enormous fleet heading for it. 203 ships in total. The breakdown was:
122 Raider II's (mostly at Vet level)
54 Marauder II's (mostly at Vet level)
9 War Cruiser II's (mostly at Vet level)
18 Strike II's (mostly at Vet)
But the Federation, to Dillinger's eyes, had not been entirely idle during this quiet period. I had built up a significant defence at Takara, totalling 51 powered Orbital Batteries. But even against this monster fleet that would not be enough. I was hoping though to knock out a few of those Marauders, even though I was resigned to losing Takara.
No such luck. I had thought Dillinger would attack with only a portion of those vessels (and there were Troop ships on the way too), but no, he attacked with all of them. Talk about overkill. Takara's 420 population was reduced to 19, and not one attacking ship was lost...
Soon Babel and other nearby Starbases and Outposts were falling (let him take them I thought). I had a vast Defiant fleet growing by the turn, and I already had one whole taskforce of Veterans. He was going to receive a shock.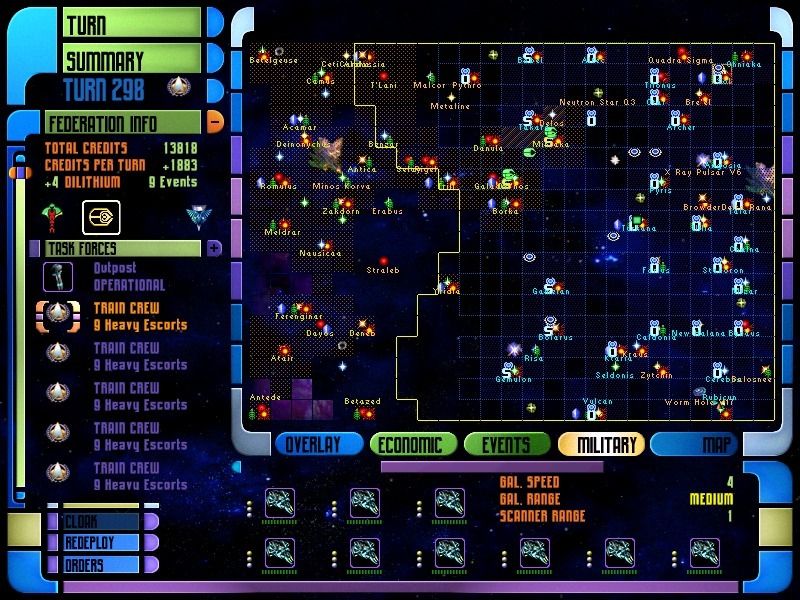 But Dillinger was encroaching deeper and deeper into my territory, and I couldn't build forever, and as it was, my bank balance was down to 5,000. It was now or never. It was turn 307, and I now had 90 Defiants at Sol, frantically training. About half were at Vet level, the rest at high Regular level (about 1,000 points). It was time to meet the Ferengi head on, and say hello....
Counter Strike
Dillinger positioned 122 of those Raiders in sector S5 (in striking distance of four Federation systems - Raiders have a galactic speed of 3), while a nearby Outpost was being built to extend their range. From Sol, out of range of his sensors (but not for much longer), I moved them in, striking at those Raiders from afar - I could get there in one turn, taking him by surprise. He knew my fleet would arrive imminently, we had kind of agreed to have a big battle, but he had no idea I had Defiants, and he'd have no warning of their approach (Defiants of course have a galactic speed of 4). He was no doubt expecting a desperate, final throw of the dice, with the last flagging remnants of my Light Cruiser and Heavy Destroyer groups, with maybe a few Green rated Dreadnoughts. More Ferg fodder. But no. A tremendous battle was about to ensue.
Battle occurring in Sector S5
122 Raider II's
90 Defiants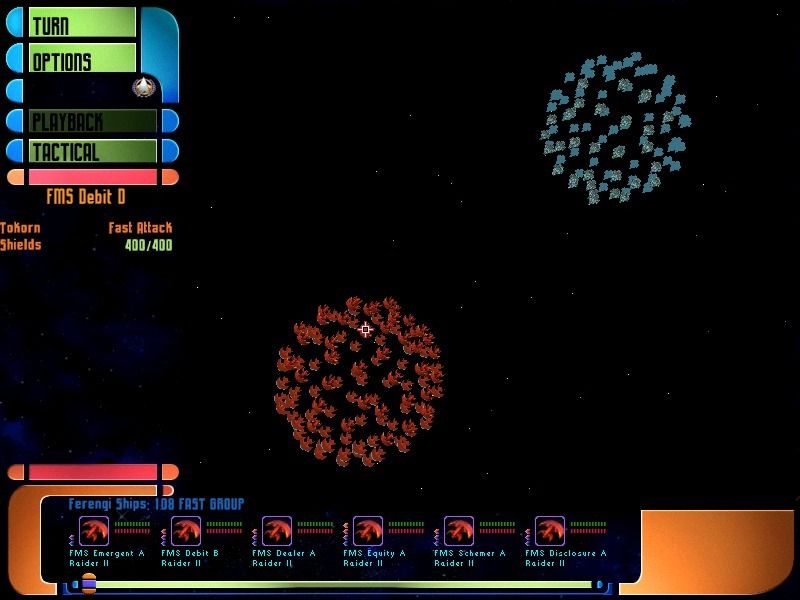 In the first exchange a few comments were passed back and forth via in-game chat, such as '&*@$ wow!!!' and 'lmao at Defiants' and 'I thought you didn't have any Defiants..!' etc. This is what, to me, makes this game great. Fine, you guys who like to play command and conquer at tech 3 or tech 5 inside 50 turns, have a ball. But this is the real galactic strategy game at its finest: two huge, mature, expanded empires going at each other with the best technology in the game - the finest versus the finest.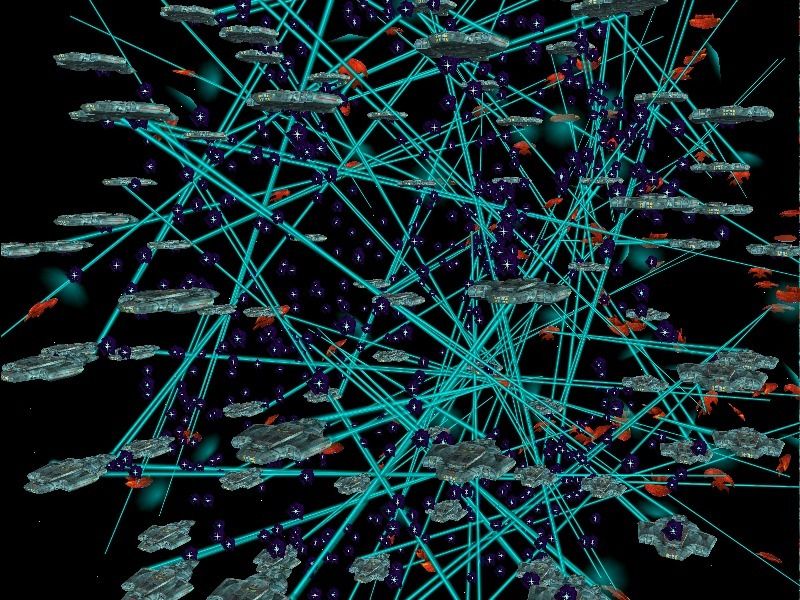 Immediately Dillinger set his Raider groups to Evade, I charged in phasers firing. Not a great deal of damage was done initially, a few yellow Ferengi explosions but nothing too damaging to him. Over the next couple of combat turns he continued to Evade, while I mixed Charge, Evade and Harry maneouvres trying to get in behind him, and it was working (though I was keen to keep my distance, I didn't want to lose any ships to any cheap ramming tactics). On the penultimate turn I was postioned at medium range, whilst the Raiders were all over the place, facing multiple directions as they desperately attempted to Evade the worst of my assault. I charged in and finally did some serious damage, he was now probably 30 ships down.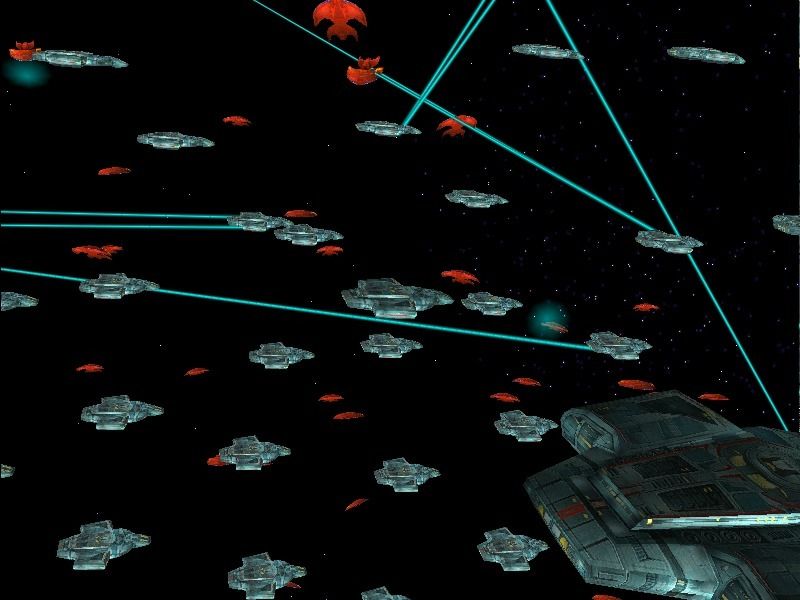 Another Crash
Then, inexplicably he retreated, losing another15 ships or so. I realised that Dillinger had been booted, and the cowardly AI taking over for him had retreated his ships. The final result was 45 losses to him, 13 to me. We met back at the Zone lobby and tried again (resuming from our initial save before the battle, so we were starting from scratch). Crash. We tried again. Crash. We tried again. After the fifth or sixth time we had to give up, the system just could handle this scale of battle. It may have been to do with my rather slow Athlon 900 system (512 MB memory, GeForce II MX).
For now the game is unfinished, with things roughly even, with me in ascendency I think (more Defiants are coming, chaperoned by a Dreadnought II group).
I've backed up the Save and we shall try again when I upgrade my machine (hopefully some time this summer). But for now people, be inspired by how far an MP could, and realistically should, go. All the way. Dispense with the quick games and have an epic every now and again, and KEEP to the continuation, rather than start new games all the time. Enjoy it.